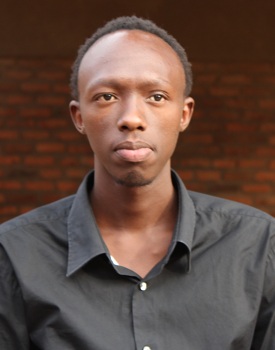 Yves is a Rwandese film director, born in 1988 in exile in Burundi, where he spent a large part of his childhood. After the 1994 Tutsis genocide, he settled back with his parents in Rwanda. He studied literature and arts in high school. In 2004, he won the national poetry competition for high school literature students. He studied law at university before dropping out his third year to pursue filmmaking. In 2006, he worked as Coordinator of Production on Lee Isaac Chung's feature "Munyurangabo". The film was the first feature made in Rwanda and was selected to the 2007 Festival de Cannes (Un Certain Régard) . Following this, Yves went on to take part in various film training programs and workshops, continuing to work on different films, most often as Script Advisor and Assistant Director, before beginning to make his own.
His debut short film, "Maibobo"( 30 minutes), was selected as part of International Film Festival Rotterdam's Forget Africa project in 2009 and was funded for post-production by the Hubert Bals fund. The film premiered at the International Film Festival Rotterdam, screened in a number of film festivals around the world, and won two awards in Milan African, Asia and Latin America Film Festival in 2010. The film was also nominated for the best short African film in Verona African Film festival and has been distributed in Italy.
In 2010, he wrote and directed a documentary film entitled "Burden of My Heart". The film was funded by the Danish institute, DANIDA, Copenhagen International Documentary Film Festival and the Finnish Film Foundation. The film premiered at the 2011 DOK Leipzig film festival, where it won the Jury Youth Prize. It subsequently won the Best Domestic Documentary Award at the Tempo Film Festival in Finland. The film was broadcast on TV Finland/YLE.
In 2010, he also made an experimental documentary essay in China entitled"The Trip." The project was commissioned and funded by the Hubert Bals fund and premiered at the International Film Festival Rotterdam in 2011.
He founded and initiated "K-Dox," the first workshop in Rwanda specifically dedicated to documentary. The workshop was funded by the Jan Vrijman Fund/IDFA Fund. His latest documentary project, "Paradise in Hell", received a PUMA Creative Catalyst Award and has been funded by the Jan Vrijman /IDFA Fund as well.
He is based in Rwanda and lives in Kigali city.