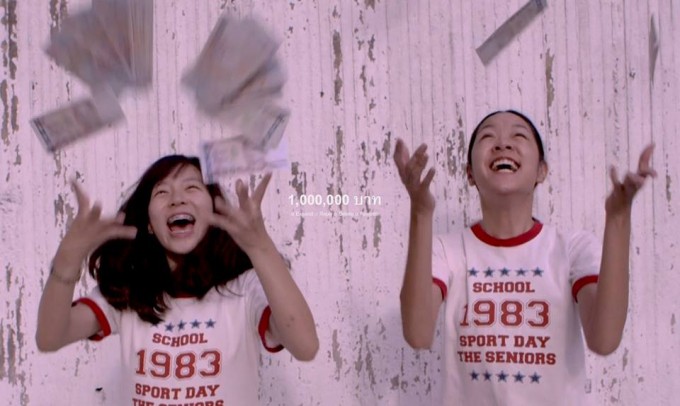 Since its premiere at the 70. Venice International Film Festival on September 1st 2013, Mary is Happy, Mary is Happy has travelled the world attending festivals and gathering rave reviews from the international press. Variety has called it an "involving, amusing yarn based on 410 consecutive Twitter updates". Now the film directed by Nawapol Thamrongrattanarit and produced by Aditya Assarat, a finalist project of the first edition of Biennale College – Cinema, is out in Thai theatres, where it opened on November 28th.
Fighting against blockbusters and big local movies, the movie found its way through theatres like Apex Siam Square's Lido, House RCA, Esplanade Ratchada, Major Cineplex Chiang Mai Airport Plaza and EGV Lotus Khon Kaen. Reports tells us that almost every early screening was sold out. That's because Mary is Happy, Mary is Happy has quickly become an indie phenomenon, and a cult hit among young people. But of couse nothing comes from nothing.
Nawapol has a lot of young fans both on Facebook and Twitter, and he comes from the big success of his awarderd first feature film, 36, a curious sleeper hit. He's also a writer and a columnist who deals with young people issues. Starting from here, there are two main factors that have contribuited to transform the movie into a cult: Twitter, a thing that kids and young people can relate to in a fast way; the imaginery and the characters, two recognizable high school girls who wear very "pop indie" clothes. The style of the movie is very pop itself: experimental yet still pop. It's a long film, but it can be very fast. It's both cute and "silly", as well as serious. It knows how to strike a chord of the indie youth.
The Transmedia marketing has been essential to its success. The online campaign had started 1 month before its release. Nawapol and his team gave out the 410 tweets online one-by-one, asking to fans and followers to create artworks concerning the specific tweet before they'd seen the movie. This "interpretation" of the tweets was created to make audience understand the concept of "adaptation" while taking part of the process. Thanks to this online marketing, some people went to see the movie already knowing the tweets, and this created a curious form of engagement by watching the interpretation of those tweets by Nawapol on the big screen.
Merchandising was also an important part of the marketing proccess. You can find a lot of staff about Mary is Happy, Mary is Happy in Thailand: CDs of the OST, t-shirts, posters, stickers. Some of these are being sold, some are given away for free on a first-come, first-served basis to bring people to theatres. The successfull mix of online marketing, merchandising and buzz brought people to watch the movie indeed, and Nawapol and Aditya think and hope the movie will be in theatres until the new year. But Mary is Happy, Mary is Happy has already gathered more than one million baths at the box office: not bad for a little indie movie that's fighting against big blockbusters such as Hunger Games.