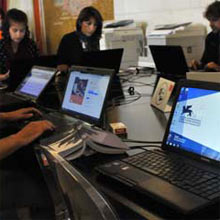 Beside the 12 feature films from the Orizzonti section, the 3 movies of 2012/13 Biennale College – Cinema (Mary is happy, Mary is happy, Memphis and Yuri Esposito) will be part of the programme of the Web Theatre at the 70th Venice International Film Festival. The films will be available for viewing around the world in streaming concurrently with the official screenings on the Lido (28 August – 7 September 2013).
The Web Theatre of the Venice Film Festival will have a maximum seating capacity for each showing of 500 seats. There will be one screening only for each of the films to be shown and it will be located on a secure site managed by Festival Scope on behalf of the Venice Film Festival. Starting this year, Mymovies.it will also collaborate in the promotion.
The sale of digital tickets is already open on the Biennale website, www.labiennale.org. In order to view the film of choice, users must first register on the website, pay for the ticket (4 euro), after which they will receive a personal link that will be good for one viewing only. Each film (in the original version with English subtitles) will be available for viewing in streaming within 24 hours starting at 9:00 pm (Italian time) on the day of the film's official presentation on the Lido.
Click here to read the full programme and the system requirements for viewing in streaming.